Directions
This is an easy and delicious slow cooker recipe especially if you are looking for something a little different to try.
Thai Pork with Peanut Sauce
2 pound pork loin, trimmed of fat and cut into 4 pieces
2 large red bell peppers, cut into strips
1/3 cup teriyaki sauce
2 tablespoons rice vinegar
1 teaspoon crushed red pepper
2 cloves garlic, minced
¼ cup creamy peanut butter
Hot cooked rice
Chopped green onion, optional
Chopped cilantro, optional
Peanuts, optional
Spray slow cooker with olive oil or cooking spray. Place pork, red pepper, teriyaki sauce, rice vinegar, garlic, crushed red pepper, and garlic in slow cooker. Cook on low for 8 to 9 hours or on high for 4 to 5 hours.
Remove pork and red bell peppers. Coarsely chop pork. Stir creamy peanut butter into the sauce in slow cooker. Add pork and bell peppers back to the slow cooker.
Serve over hot cooked rice. Garnish with green onion, cilantro and peanuts, if desired.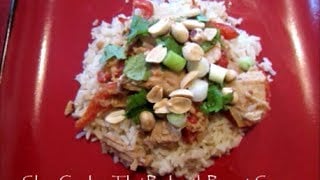 (Visited 1 times, 1 visits today)