Directions
What to do with a pumpkin? Make a soup, cook a compote, cut a face? All fine! But what about baking a savory pumpkin pie? It's simple, fast and tastes really well. Have fun with this video, I hope you enjoy my creation!
This video is a collaboration with my tastemade fellow Petra from the youtube channel PERABELLA. She show simultaneously a pumpkin pie made with a Thermomix – and she would be very glad, if you would visit her channel and maybe subscribe to it, if you liked it.
Here's the link to her channel: https://www.youtube.com/user/perabella
And here's her pumpkin pie: https://www.youtube.com/watch?v=i7_hzXtM35E
On my facebook page you find the recipe for saving and printing.
BTW I'm also glad about every subscription and recommendation!
My Facebook page: www.facebook.com/cakeclassics1
My Twitter page: www.twitter.com/cakeclassics1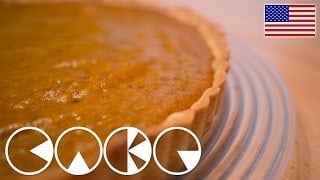 Video Rating: 4 / 5
(Visited 1 times, 1 visits today)