Directions
If you're looking for easy, fast recipes to bring to a picnic, Chef Ajay Chopra has some great ideas for you.
Liked this recipe, share it on Facebook: http://goo.gl/uiomcl
Share this video with your friends on Twitter: http://goo.gl/gQd62K
Click here to share it on Google Plus: http://goo.gl/LDmXAx
Grilled chicken wrap is a popular Arabic Recipe. Its irresistible smoky flavor, when blended with cold Tzatziki, makes your picnic a relishing one! Wondering what Tzatziki is? Made with strained yogurt, cucumber, garlic and olive oil, Tzatziki is a Greek Sauce and is always served cold with chicken wraps.
In this video, Chef Ajay Chopra shares the recipe of Grilled Chicken Wrap with Tzatziki.
Ingredients needed for preparing the recipe are:
– 3 Cucumbers
– Salt as per taste
– 2 Chicken Breasts
– Juice of one Lemon
– 1 pinch Cinnamon powder
– 1 pinch Black pepper powder
– 1 pinch Cumin powder
– 1 tsp Sumac powder
– Garlic 4-5 cloves
– 1 tsp Mint
– 1 tsp Roasted Cumin Powder
– 100 gms Hung Yogurt
– 1 tbsp Olive oil
– 2 Tortillas
– Few leaves of Iceberg lettuce
Finally serve it with cold Tzatziki dips.
If you like the video don't forget to share this video with your friends, hit the like button and comment below.
Try out Exotic Chop Chop Chopra Recipes at: http://goo.gl/VhI5v4
Chef Ajay Chopra will hit your kitchen every Tuesday and Thursday with his Chop Chop Chopra Magic on YouTube.
Subscribe to Chop Chop Chopra to stay updated with finger-licking recipes: http://goo.gl/2RTNKO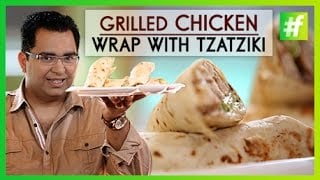 Video Rating: 4 / 5
(Visited 1 times, 1 visits today)